As part of the building permit process, zoning inspections will be required to determine whether the landscape and site plan has been executed according to the requirements of the approved plan.
IMPORTANT TO REMEMBER ON YOUR INSPECTION DAY
Your 2- or 4-hour time window is given as a courtesy. Our inspectors aim to arrive at your job site within that timeframe.
Inspector may be delayed due to weather or traffic conditions.
Some inspections may take longer than others due to size, scope or complexity of the inspection.
It is possible for an inspection to be canceled in the field and the inspection order may change.
Building Inspectors may be reached in the field. Click this link for an updated list of numbers. Building Department Phone Numbers
Planning and Zoning Inspectors - Planning and Zoning Department Phone Numbers
Your responsibilities as the applicant/permit holder:
Complete all work related to the inspection.
Pay all previous re-inspection fees, if any, prior to scheduling your next inspection. *Inspections are scheduled ONLINE ONLY.
The site address must be properly posted and visible from the street or right-of-way adjacent to the property.
Job Copy Plans and Permit Card shall be on site at all times during inspections.
Site must be secure and safe for inspector to walk the property. See OSHA and Florida Building Guidelines for more info.
Provide gate code or access numbers and contact info for guarded properties.
Provide all necessary documents to the inspectors required for your particular inspection.
An OSHA-approved ladder must be provided, if applicable.
Did you know? How to find your position on todays inspection route.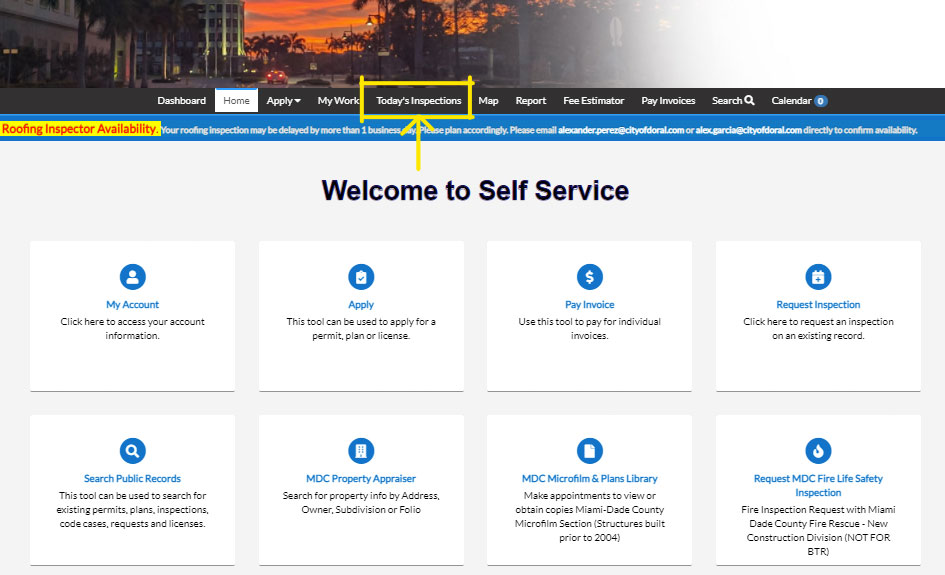 Note: All inspections for today are found in this list. Use the

drop-down or the

button to export list and sort by location, inspector, permit number, etc. Inspection order may change and it is the permit applicant's responsibility to be present for scheduled inspections. Routes are subject to change. You may call the Main Number 305-593-6700 and ask to speak to a trade chief if you are having any issues in the field.