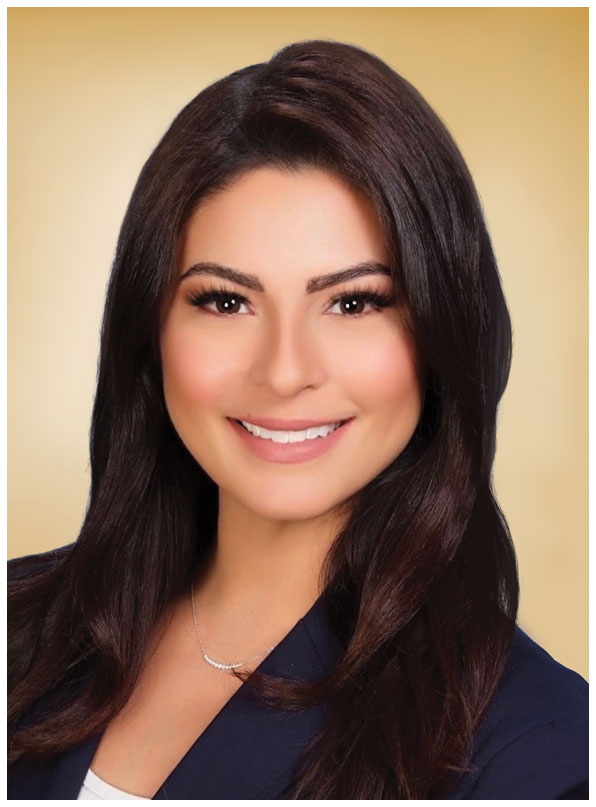 Mayor Christi Fraga
305-593-6725
Mayor Christi Fraga Bio:
The City of Doral has been home to Mayor Christi Fraga and her Cuban-American family for over twenty years. Naturally, when the time came for Christi and her husband, Gabriel Fraga, to decide where they would start a family, Doral was the only option. Today Christi, Gabriel and their 6-year-old son Gabriel Jr. call Doral home. Mayor Fraga earned an Associate's Degree in Business Administration from Miami-Dade Community College (MDCC) as well as a Bachelor's degree in Finance Management and Accounting from Florida International University (FIU). In 2014, she also earned a sixty-hour certificate from the University of Miami's Good Government Initiative Leaders in Excellence Program, whose content was designed to cultivate ethical and leadership abilities in elected officials. These accomplishments not only contributed to the strong foundation that underscores Christi's ability to thrive, but also served to inspire her to embark on various entrepreneurial ventures which include several successful businesses based within Doral.

While attaining her education and since the start of her career, Christi envisioned herself as a well-rounded, determined, and passionate business and community leader. Therefore, in 2012, she decided to run a vigorous campaign for an open seat on the Doral City Council. In November of that year, she was elected as the youngest person in the City's history to serve on the Council. The following year she was appointed by her colleagues to serve as the City's Vice Mayor, a position she held for three out of the eight years that she served on the Council. While serving as a Doral Council member, Christi continuously went above and beyond what was expected of her, concentrating her efforts on empowering the youth, women, the elderly, and the special needs community. She also undertook strong efforts to improve traffic, education, and small businesses support.

To empower the youth in Doral, Christi spearheaded the creation of the Youth Advisory Board, a group of young civic leaders who advise the City on how to get other young adults involved in government services. She also created the Youth Leadership Award to recognize young civic leaders for their excellence in academics, their leadership, and community service initiatives. To empower women, Christi served for two years as the chair of the Women's Alliance Group (WAG), which focused on enhancing women's opportunities in the workplace while also encouraging them to make a difference in their community. She has also raised funds for important community causes such as the Women's Breast Health Initiative (WBHI), the American Cancer Society Relay for Life, and organizations which help the disabled, battle domestic violence, and provide gratuitous healthcare services for the community.

Mayor Fraga has always been passionate about education and creating increased educational opportunities for students. She served in the Miami-Dade County League of Cities (MDCLC) Board of Directors, whose members appointed her to serve on the Miami-Dade County Public School's Site Planning and Construction Committee (SPCCS) which brought three additional public schools to Doral. Christi established and promoted increased engagement with the members of Parent Teacher and Student Associations (PTSA) at local schools, which led to expansion of City PTSA Grants to fund additional programs to benefit education, the establishment of a City Computer Donation Program to ensure a steady yearly flow of computer equipment to Doral's schools, and Back to School EXPO conferences for parents and educators that emphasized on providing parents and families with important tools and resources to promote safe, healthy, and supportive educational environments for students. Christi also supported increased opportunities for higher education for students by serving on the Florida International University (FIU) President's Council, and the creation of a City Executive Internship Program and a direct trolley-route between Doral and FIU which presently makes of 250,000 trips per year and benefits over 4,500 FIU students and families.

Christi's initiatives also included lowering property taxes for low-income seniors, promoting fiscal responsibility, ethics, and transparency. She has continuously supported the expansion of the City's parks, which included Legacy and Glades parks, and the Aquatic Facility complex at Doral Central Park which is currently in the construction process. Christi also supports the enhancement of the City's Police facilities which will increase safety for Doral's businesses as well as for its residents. She advocates road improvement projects meant to alleviate traffic flows, minimize flooding, and stabilize Doral's canal banks. She also favors public transportation enhancements that promote the use of trolleys, bikes, and walkability. Christi also supports information technology initiatives that will allow for increased digital citizen engagement and propel the City of Doral into becoming a fully functioning Smart City.

She served as a Miami-Dade School board member, the 4th largest school district in nation, Christi recommended improvements and voted on the oversight of a $7 Billion budget. She participated in the Miami-Dade Value adjustment board, and served as the vice chair to the Facilities committee, she also served as the vice chair to the audit and budget committee. During her time on the school board Christi proposed initiatives that enhanced parent involvement and choice, improved public education, increased special need resources, included financial literacy in schools, and emphasized the importance of mental health and social emotional learning curriculum.

Christi Fraga makes history by being elected City of Doral's first-ever woman Mayor in December 2022. After a career of more than 10 years in public service and elected leadership, she enters the mayor's office bringing her experience and passion of working for the community. Mayor Fraga currently serves as a member in the Miami-Dade Transportation Planning Organization. (TPO) Mayor Fraga is determined that her hard work, dedication, and spirit of collaboration will ensure a bright and bold future for the families of Doral and that her stewardship will make a positive impact for years to come.
---
Biografía de Christi Fraga:
La ciudad de Doral ha sido el hogar de la alcaldesa Christi Fraga y su familia cubanoamericana durante más de veinte años. Naturalmente, cuando llegó el momento de que Christi y su esposo, Gabriel Fraga, decidieran dónde formar una familia, Doral era la única opción. Hoy, Christi, Gabriel y su hijo de 6 años, Gabriel Jr., llaman a la ciudad de Doral su hogar. La Alcaldesa Fraga obtuvo un título de asociado en administración de empresas de Miami-Dade Community College (MDCC), así como una licenciatura en administración financiera y contabilidad de la Universidad Internacional de Florida (FIU). En 2014, también obtuvo un certificado de sesenta horas del Programa de Líderes en Excelencia de la Iniciativa de Buen Gobierno de la Universidad de Miami, cuyo contenido fue diseñado para cultivar habilidades éticas y liderazgo en los funcionarios electos. Estos logros no solo contribuyeron a la base sólida que subraya la capacidad de Christi para prosperar, sino que también sirvieron para inspirarla a embarcarse en varios proyectos empresariales los cuales varios han sido muy exitosos y por supuesto con sede en Doral.
Mientras obtenía su educación y desde el comienzo de su carrera, la alcaldesa se imaginó a sí misma como una líder empresarial y comunitaria integral, decidida y apasionada. Por lo tanto, en 2012 decidió realizar una campaña vigorosa por un puesto vacante en el Consejo Municipal de Doral. En noviembre de ese año, fue elegida como la persona más joven en la historia de la Ciudad para servir en el Consejo Municipal. Al año siguiente, Christi fue nombrada por sus colegas para servir como vicealcaldesa de la ciudad, cargo que ocupó durante tres de los ocho años que sirvió en el Consejo. Mientras se desempeñaba como miembro del Consejo de Doral, Christi continuamente fue más allá de lo que se esperaba de ella, concentrando sus esfuerzos en empoderar a los jóvenes, las mujeres, los ancianos y la comunidad con necesidades especiales. También realizó grandes esfuerzos para mejorar el tráfico, la educación y el apoyo a las pequeñas empresas.
Para empoderar a la juventud en Doral, Christi encabezó la creación de la Junta Asesora de Jóvenes, un grupo de líderes cívicos jóvenes que asesoran a la Ciudad sobre cómo involucrar a otros adultos jóvenes en los servicios gubernamentales. También creó el Premio al Liderazgo Juvenil para reconocer a los jóvenes líderes cívicos por su excelencia académica, su liderazgo y sus iniciativas de servicio comunitario. Para empoderar a las mujeres, Christi se desempeñó durante dos años como presidenta del Women's Alliance Group (WAG), que se centró en mejorar las oportunidades de las mujeres en el lugar de trabajo y al mismo tiempo alentarlas a marcar la diferencia en su comunidad. También ha recaudado fondos para causas comunitarias importantes, como la Iniciativa para la salud de los senos de la mujer (WBHI), el Relevo por la vida de la Sociedad Estadounidense del Cáncer y organizaciones que ayudan a los discapacitados, luchan contra la violencia doméstica y brindan servicios de atención médica gratuitos para la comunidad.
A la alcaldesa Fraga siempre le ha apasionado la educación y la creación de mayores oportunidades educativas para los estudiantes. Sirvió en la Junta Directiva de la Liga de Ciudades del Condado de Miami-Dade (MDCLC), cuyos miembros la designaron para servir en el Comité de Planificación y Construcción del Sitio de las Escuelas Públicas del Condado de Miami-Dade (SPCCS) que trajo tres escuelas públicas adicionales a Doral. Christi estableció y promovió un mayor compromiso con los miembros de las asociaciones de padres, maestros y estudiantes (PTSA) en las escuelas locales, lo que condujo a la expansión de las subvenciones de la PTSA de la ciudad para financiar programas adicionales en beneficio de la educación, el establecimiento de un programa de donación de computadoras de la ciudad para garantizar un flujo anual de equipos de cómputacion a las escuelas de Doral y las conferencias Back to School EXPO para padres y educadores que enfatizaron en brindar a los padres y familias herramientas y recursos importantes para promover entornos educativos seguros, saludables y de apoyo para los estudiantes. Christi también apoyó mayores oportunidades de educación superior para los estudiantes al servir en el Consejo del presidente de la Universidad Internacional de Florida (FIU), y la creación de un Programa de pasantías ejecutivas de la ciudad y una ruta de transporte de Bus directa entre Doral y FIU que actualmente realiza 250,000 viajes por año y beneficia a más de 4,500 estudiantes y familias de FIU.
Las iniciativas de Christi también incluyeron la reducción de los impuestos a la propiedad para las personas mayores de bajos ingresos, la promoción de la responsabilidad fiscal, la ética y la transparencia. Ella ha apoyado continuamente la expansión de los parques de la Ciudad, que incluyeron los parques Legacy y Glades, y el complejo de Instalaciones Acuáticas en Doral Central Park, que actualmente se encuentra en proceso de construcción. Christi también apoya la mejoramiento de las instalaciones de la Policía de la Ciudad, lo que aumentará la seguridad de los negocios de Doral y de sus residentes. Ella aboga por proyectos que avancen las carreteras destinados a aliviar los flujos de tráfico, minimizar las inundaciones y estabilizar las orillas de los canales de Doral. También está a favor de mejoras en el transporte público que promuevan el uso de carritos, bicicletas y la accesibilidad para peatones. Christi también apoya iniciativas de tecnología de la información que permitirán una mayor participación digital de los ciudadanos e impulsarán a la ciudad de Doral a convertirse en una ciudad inteligente en pleno funcionamiento.
Ella fue meimebro de la junta escolar del condado Miami-Dade, el 4to distrito escolar más grande de la nación, Christi recomendó mejoras y votó sobre la supervisión de un presupuesto de $7 mil millones. Christi formo parte de la junta de ajuste de valor de Miami-Dade y se desempeño como vicepresidenta del comité de Instalaciones, también se desempeñó como vicepresidenta del comité de auditoría y presupuesto. Durante su tiempo en la junta escolar, Christi ha propuso iniciativas que mejoraron la participación y la elección de los padres, mejoraron la educación pública, aumentaron los recursos para necesidades especiales, incluyeron educación financiera en las escuelas y enfatizaron la importancia de la salud mental y el plan de estudios de aprendizaje socioemocional.
Christi aporta su experiencia y pasión por trabajar con la comunidad, es una persona cariñosa, atenta y trabajadora. Ella también esta determinada que su arduo trabajo, dedicación y espíritu de colaboración asegurarán un futuro brillante y audaz para las familias de Doral y tendrán un impacto positivo en los años venideros.
Christi Fraga hace historia al ser elegida la primera mujer alcaldesa de la ciudad de Doral en Diciembre de 2022. Luego de una carrera de más de 10 años en el servicio público y liderazgo electo, entra a la alcaldía aportando su experiencia y su pasión por trabajar en pro a la comunidad. Actualmente ella es miembra de el Miami-Dade Transportation Planning Organization. (TPO) La alcaldesa Fraga está decidida a que su arduo trabajo, dedicación y espíritu de colaboración aseguren un futuro brillante y audaz para las familias de Doral y que su gestión logre tener un impacto positivo en los años venideros.