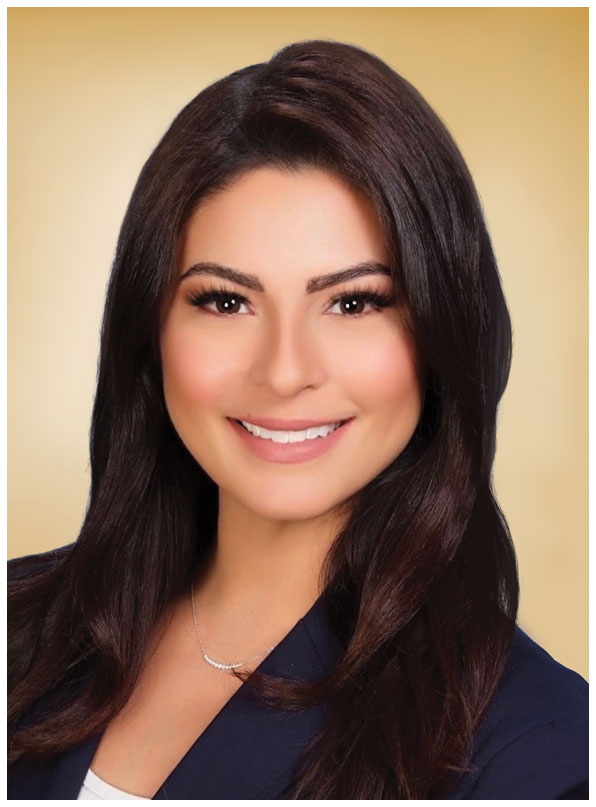 Mayor Christi Fraga
305-593-6725
BIOGRAPHY
Meet Mayor Christi Fraga, a passionate advocate for the City of Doral and a proud member of the vibrant Cuban-American community. For over two decades, Christi and her husband, Gabriel Fraga, have called Doral home, choosing it as the perfect place to raise their 6-year-old son, Gabriel Jr.

With a strong educational background, including an Associate's Degree in Business Administration from Miami-Dade Community College and a Bachelor's degree in Finance Management and Accounting from Florida International University, Christi has always envisioned herself as a well-rounded and determined leader in both business and community.

In 2012, fueled by her aspirations, Christi embarked on a spirited campaign for a seat on the Doral City Council. Her successful election made her the youngest person ever to serve on the Council, and she was later appointed as the City's Vice Mayor for three out of her eight years of service. Throughout her tenure, Christi went above and beyond, focusing her efforts on empowering the youth, women, the elderly, and the special needs community. She also championed initiatives to improve traffic, education, and support for small businesses.

Passionate about empowering the youth, Christi founded the Youth Advisory Board, a group of young civic leaders who advise the City on engaging other young adults in government services. She also established the Youth Leadership Award, recognizing outstanding young leaders for their academic excellence, leadership, and community service. Additionally, Christi served as the chair of the Women's Alliance Group (WAG), supporting women's opportunities in the workplace and encouraging them to make a positive impact in their community.

Education has always been a priority for Mayor Fraga. She served on the Miami-Dade County Public School's Site Planning and Construction Committee, which successfully brought three additional public schools to Doral. Christi fostered engagement with Parent Teacher and Student Associations (PTSA) and expanded City PTSA Grants to fund programs benefiting education. She also initiated the City Computer Donation Program, ensuring a steady supply of computer equipment for Doral's schools. Back to School EXPO conferences provided parents and educators with essential tools and resources for creating safe and supportive educational environments.

Mayor Fraga's vision extends to fiscal responsibility, ethics, and transparency. She has supported the expansion of the City's parks, including Legacy and Glades parks, and the ongoing construction of the Aquatic Facility complex at Doral Central Park. Enhancing safety, Christi advocates for improved police facilities, road enhancements to minimize traffic and flooding, and public transportation enhancements promoting trolleys, bikes, and walkability. Embracing technology, she advocates for digital citizen engagement, propelling Doral into becoming a Smart City.

Notably, Christi served on the Miami-Dade School Board, overseeing a $7 billion budget, and proposing initiatives to enhance parent involvement, improve public education, increase resources for special needs students, and prioritize financial literacy and mental health in schools.

In December 2022, Mayor Christi Fraga made history as the first woman elected to lead the City of Doral. With more than a decade of public service and elected leadership, she brings her experience and unwavering dedication to the mayor's office. Mayor Fraga also serves as a member of the Miami-Dade Transportation Planning Organization, demonstrating her commitment to the city's future.

Driven by her passion, collaborative spirit, and tireless work ethic, Mayor Christi Fraga envisions a bright and bold future for Doral, making a positive impact that will resonate for years to come.
---
Conozcan a la Alcaldesa Christi Fraga, una apasionada defensora de la Ciudad de Doral y orgullosa miembro de la vibrante comunidad cubanoamericana. Durante más de dos décadas, Christi y su esposo, Gabriel Fraga, han hecho de Doral su hogar, eligiéndolo como el lugar perfecto para criar a su hijo de 6 años, Gabriel Jr.
Con una sólida formación académica, que incluye un título de Asociado en Administración de Empresas del Miami-Dade Community College y una licenciatura en Gestión Financiera y Contabilidad de la Florida International University, Christi siempre se ha imaginado como una líder completa y decidida tanto en los negocios como en la comunidad.
En 2012, impulsada por sus aspiraciones, Christi emprendió una enérgica campaña para un puesto en el Consejo de la Ciudad de Doral. Su exitosa elección la convirtió en la persona más joven en servir en el Consejo, y más tarde fue designada Vicealcaldesa de la Ciudad durante tres de sus ocho años de servicio. A lo largo de su mandato, Christi fue más allá, enfocando sus esfuerzos en empoderar a los jóvenes, mujeres, personas mayores y la comunidad con necesidades especiales. También defendió iniciativas para mejorar el tráfico, la educación y el apoyo a las pequeñas empresas.
Apasionada por empoderar a los jóvenes, Christi fundó el Consejo Asesor Juvenil, un grupo de jóvenes líderes cívicos que asesoran a la Ciudad sobre cómo involucrar a otros jóvenes adultos en los servicios gubernamentales. También estableció el Premio al Liderazgo Juvenil, que reconoce a destacados jóvenes líderes por su excelencia académica, liderazgo y servicio comunitario. Además, Christi presidió el Grupo Alianza de Mujeres (WAG), apoyando las oportunidades para las mujeres en el lugar de trabajo y alentándolas a tener un impacto positivo en su comunidad.
La educación siempre ha sido una prioridad para la Alcaldesa Fraga. Participó en el Comité de Planificación y Construcción de Escuelas Públicas del Condado de Miami-Dade, que logró traer tres escuelas públicas adicionales a Doral. Christi fomentó la participación en las Asociaciones de Padres, Maestros y Estudiantes (PTSA) y amplió las Subvenciones PTSA de la Ciudad para financiar programas que benefician a la educación. También inició el Programa de Donación de Computadoras de la Ciudad, asegurando un suministro constante de equipo informático para las escuelas de Doral. Las conferencias "Back to School EXPO" proporcionaron a los padres y educadores herramientas y recursos esenciales para crear entornos educativos seguros y solidarios.
La visión de la Alcaldesa Fraga también abarca la responsabilidad fiscal, la ética y la transparencia. Apoyó la expansión de los parques de la Ciudad, incluidos los parques Legacy y Glades, y la construcción continua del complejo de instalaciones acuáticas en Doral Central Park. Para mejorar la seguridad, Christi aboga por mejores instalaciones policiales, mejoras en las carreteras para minimizar el tráfico e inundaciones, y mejoras en el transporte público para promover el uso de tranvías, bicicletas y la movilidad a pie. Abrazando la tecnología, aboga por la participación ciudadana digital, impulsando a Doral para convertirse en una Ciudad Inteligente.
Cabe destacar que Christi también sirvió en la Junta Escolar del Condado de Miami-Dade, supervisando un presupuesto de 7 mil millones de dólares, y proponiendo iniciativas para mejorar la participación de los padres, mejorar la educación pública, aumentar los recursos para estudiantes con necesidades especiales y priorizar la educación financiera y la salud mental en las escuelas.
En diciembre de 2022, la Alcaldesa Christi Fraga hizo historia como la primera mujer elegida para liderar la Ciudad de Doral. Con más de una década de servicio público y liderazgo electo, aporta su experiencia y dedicación inquebrantable a la oficina de la alcaldía. Además, Christi también es miembro de la Organización de Planificación de Transporte de Miami-Dade, demostrando su compromiso con el futuro de la ciudad.
Impulsada por su pasión, espíritu colaborativo y ética de trabajo incansable, la Alcaldesa Christi Fraga vislumbra un futuro brillante y audaz para Doral, dejando un impacto positivo que resonará en los años venideros.