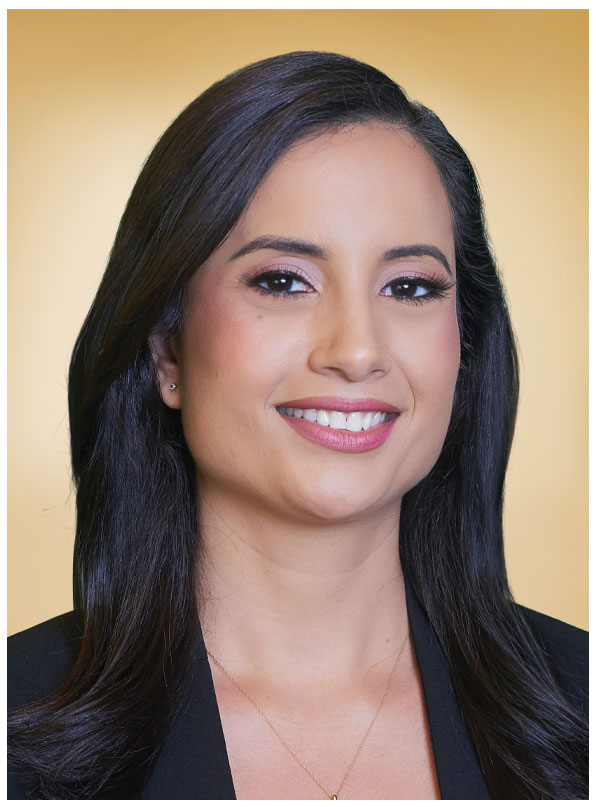 Maureen is an Immigration Attorney and Legal Director of a global nonprofit organization where she has worked as a public interest lawyer since 2016. Maureen has been providing access to legal services to families since 2008. She has also focused on defending and promoting human rights and providing humanitarian work at a global level, including through the United Nations High Commissioner for Refugees (UNHCR).
As Legal Director, Maureen provides instruction on the design and expansion of community programs; works with other organizations to provide services, information, and outreach to the community; manages program budgets and negotiates contracts; and liaisons with governmental agencies as part of her advocacy efforts. Her legal training along with her community building experience helps her better serve our city.
Maureen was born in Nicaragua and immigrated to Miami at the age of seven. Her own immigration experience and her love for South Florida's cultural diversity led her to pursue a career as an immigration attorney. Maureen earned a Bachelor of Arts (B.A.) in Political Science from Florida International University (FIU) where she graduated cum laude in 2010. While attending FIU, she interned with former U.S. Congressional Representative Ileana Ros-Lehtinen, where she assisted immigrants through various projects. Maureen earned her Juris Doctor (J.D.) from Florida Coastal School of Law in 2014, where she graduated with pro bono honors for her work with the Human and Immigrant Rights Clinic and as President of the Immigration Law Society (VISA). Maureen has been a member of the Florida Bar since 2014.
She is married to her husband, Caleb Johnston, who is also a dedicated public servant employed as an attorney for the State of Florida. Maureen and Caleb are proud to call Doral their home since 2017 and are active members of the community, including in the Rotary Club of Doral. Maureen is highly active in our community and has served Doral as a member of the following:
Miami Dade School Board Advisory Board, District 5 – Advocated for the safety, health, and academic success of students with members, PTAs, and staff. Supported recommendations to prioritize mental health for students. Miami Dade County Hispanic Affairs Advisory Board, District 12 – Focused on issues affecting our Hispanic community, including unlicensed practice of law and "notario" fraud. League of Women Voters Miami – Performed advocacy, including in Tallahassee, to support voting rights and policies empowering women, including equal pay and closing the wage gap. Community Advocate – Perform advocacy on various issues, including pro-democracy and humanitarian issues. She often serves as a political analyst and immigration expert on television, newspaper, and radio. Maureen is also an active member of the American Immigration Lawyers Association (AILA), serving on several committees.
---
Maureen es Abogada de Inmigración y Directora Legal de una organización global sin fines de lucro donde ha trabajado como abogada de interés público desde 2016. Maureen ha brindado acceso a servicios legales a familias desde 2008. También se ha enfocado en defender y promover los derechos humanos y brindar trabajo humanitario a nivel mundial, incluso a través del Alto Comisionado de las Naciones Unidas para los Refugiados (ACNUR).
Como directora legal, Maureen brinda instrucción sobre el diseño y la expansión de programas comunitarios; trabaja con otras organizaciones para brindar servicios, información y acercamiento a la comunidad; gestiona los presupuestos de programas y negocia contratos; y enlaces con agencias gubernamentales como parte de sus esfuerzos de promoción. Su capacitación legal junto con su experiencia en la creación de comunidades la ayudan a servir mejor a nuestra ciudad.
Maureen nació en Nicaragua y emigró a Miami a la edad de siete años. Su propia experiencia de inmigración y su amor por la diversidad cultural del sur de la Florida la llevo a seguir una carrera como abogada de inmigración. Maureen obtuvo una Licenciatura en Artes (B.A.) en Ciencias Políticas de la Universidad Internacional de Florida (FIU), donde se graduó cum laude en 2010. Mientras asistía a FIU, hizo una pasantía con la exrepresentante del Congreso de los EE. UU. Ileana Ros-Lehtinen, donde ayudó a inmigrantes a través de varios proyectos. Maureen obtuvo su Doctorado en Jurisprudencia (J.D.) de la Facultad de Derecho de la Costa de Florida en 2014, donde se graduó con honores pro bono por su trabajo con la Clínica de Derechos Humanos e Inmigrantes y como Presidenta de la Sociedad de Derecho de Inmigración (VISA). Maureen ha sido miembro del Colegio de Abogados de Florida desde 2014.
Maureen está casada con su esposo, Caleb Johnston, quien también es un dedicado servidor público que trabaja como abogado del estado de Florida. Maureen y Caleb se enorgullecen de llamar a Doral su hogar desde 2017 y son miembros activos de la comunidad, incluido del Club Rotario de Doral. Maureen es muy activa en nuestra comunidad y ha servido a Doral como miembro de lo siguiente:
Consejo Asesor de la Junta Escolar de Miami Dade, Distrito 5: Abogó por la seguridad, la salud y el éxito académico de los estudiantes con miembros, PTA y personal. Respaldo la recomendación para priorizar la salud mental de los estudiantes. Junta Asesora de Asuntos Hispanos del Condado de Miami Dade, Distrito 12: Se enfoco en los problemas que afectan a nuestra comunidad hispana, incluida la práctica de la ley sin licencia y el fraude de "notario". Liga de Mujeres Votantes de Miami: Realizó actividades de promoción, incluso en Tallahassee, para apoyar los derechos de voto y las políticas que empoderan a las mujeres, incluida la igualdad salarial. Defensor de la comunidad: Realiza actividades de abogacía en diversos temas, incluyendo de democracia y asuntos humanitarios. También se desempeña como analista política y experta en inmigración en televisión, periódicos y radio. Maureen también es miembro activo de la Asociación Estadounidense de Abogados de Inmigración (AILA), sirviendo en varios comités.