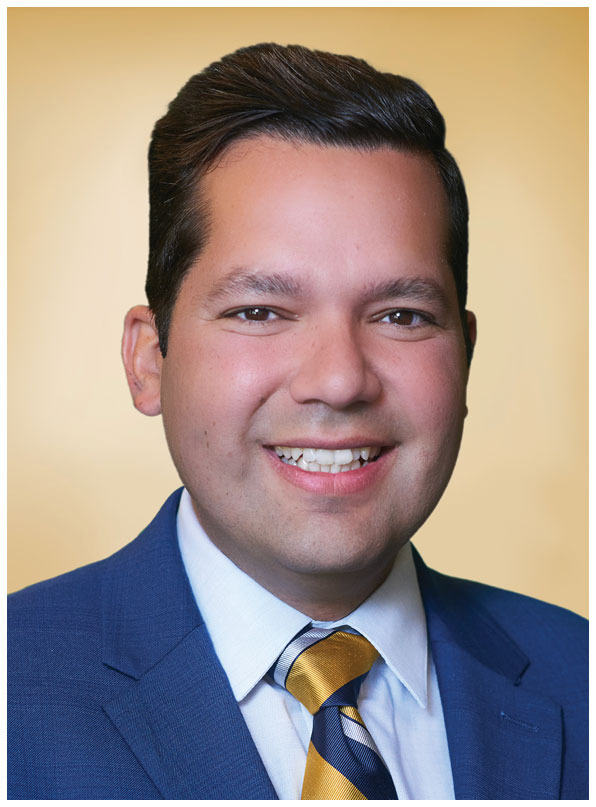 Councilman Rafael Pineyro was born in Caracas, Venezuela. At 15, he moved to Miami, Florida with his family, filled with hopes and dreams for his future. He attended Miami Coral Park Senior High School, where he received the "Take Stock" scholarship and was paired with a volunteer mentor who guided him towards college and a career in community leadership. Rafael earned an Associate of Arts from Miami Dade College, a Bachelor of Public Administration from Florida International University, and a Master's in Psychology from Lipscomb University. He has held important positions in Public Administration, working to improve the well-being of South Florida communities.
For five years, Rafael worked with the Miami Dade County Parks and Recreation Department, enhancing recreational, cultural, sports, and educational programs for residents of all ages. He also spent two years working alongside a Williamson County Judge, assisting families dealing with juvenile court cases related to addiction and misbehavior. Rafael's commitment to non-profit organizations and government initiatives aimed at reintegrating young people into society has greatly impacted their lives.
Rafael's contributions to addressing Domestic Violence and Human Trafficking in South Florida are commendable. He actively participates in various organizations providing support in immigration, psychology, employment, and housing. Additionally, Rafael is dedicated to assisting children and adults with special needs, advocating for their healthcare, housing, employment, and education, especially after they turn 18 years old. He will continue to prioritize these causes.
In 2014, Rafael was selected to work as the "Chief of Staff" for the City of Doral, where he made a significant impact on the mayor's office and the city's development. Since 2018, he has worked in the private sector while remaining involved in community initiatives such as food assistance, business openings, and local events. Rafael is married and has one son; together with his family, he actively participates in the vibrant Doral community.
As Councilman of Seat #1 in the City of Doral, Rafael is dedicated to serving constituents with unwavering determination and a heartfelt commitment to addressing their needs. He is accessible, empathetic, and hardworking, fully embraced by the Doral community and its residents.
---
El vicealcalde Rafael Pineyro nació en Caracas, Venezuela. A los 15 años se mudó a Miami, Florida con su familia, lleno de esperanzas y sueños para su futuro. Asistió a Miami Coral Park Senior High School, donde recibió la beca "Take Stock" y fue conectado con un mentor voluntario que lo guió hacia la universidad y una carrera en liderazgo comunitario. Rafael obtuvo una Grado Asociado en Artes del Miami Dade College, una licenciatura en administración pública de la Florida International University y una maestría en psicología de la Universidad Lipscomb. Ha ocupado importantes cargos en la Administración Pública, trabajando para mejorar el bienestar de las comunidades del Sur de la Florida.
Durante cinco años, Rafael trabajó con el Departamento de Parques y Recreación del Condado de Miami Dade, mejorando programas recreativos, culturales, deportivos y educativos para residentes de todas las edades. También pasó dos años trabajando junto a un juez del condado de Williamson, ayudando a familias que se ocupan de casos de tribunales de menores relacionados con la adicción y la mala conducta. El compromiso de Rafael con organizaciones sin fines de lucro e iniciativas gubernamentales destinadas a reintegrar a los jóvenes a la sociedad ha tenido un gran impacto en sus vidas.
Las contribuciones de Rafael para abordar la violencia doméstica y la trata de personas en el sur de Florida son encomiables. Participa activamente en diversas organizaciones brindando apoyo en inmigración, psicología, empleo y vivienda. Además, Rafael se dedica a ayudar a niños y adultos con necesidades especiales, abogando por su atención médica, vivienda, empleo y educación, especialmente después de que cumplen 18 años. Después de muchos años, continua dando prioridad a estas causas.
En 2014, Rafael fue seleccionado para trabajar como "Jefe de Gabinete" de la Ciudad de Doral, donde tuvo un impacto significativo en la oficina del alcalde y el desarrollo de la ciudad. Desde 2018, ha trabajado en el sector privado sin dejar de participar en iniciativas comunitarias como asistencia alimentaria, apertura de negocios y eventos locales. Rafael está casado y tiene un hijo; Junto con su familia, participa activamente en eventos de la comunidad de la ciudad de Doral.
Como vicealcalde de la silla #1 en la ciudad de Doral, Rafael se dedica a servir a los electores con una determinación inquebrantable y un compromiso sincero para abordar sus necesidades. Es accesible, empático y trabajador, plenamente aceptado por la comunidad de Doral y sus residentes.