Best of the Best 2022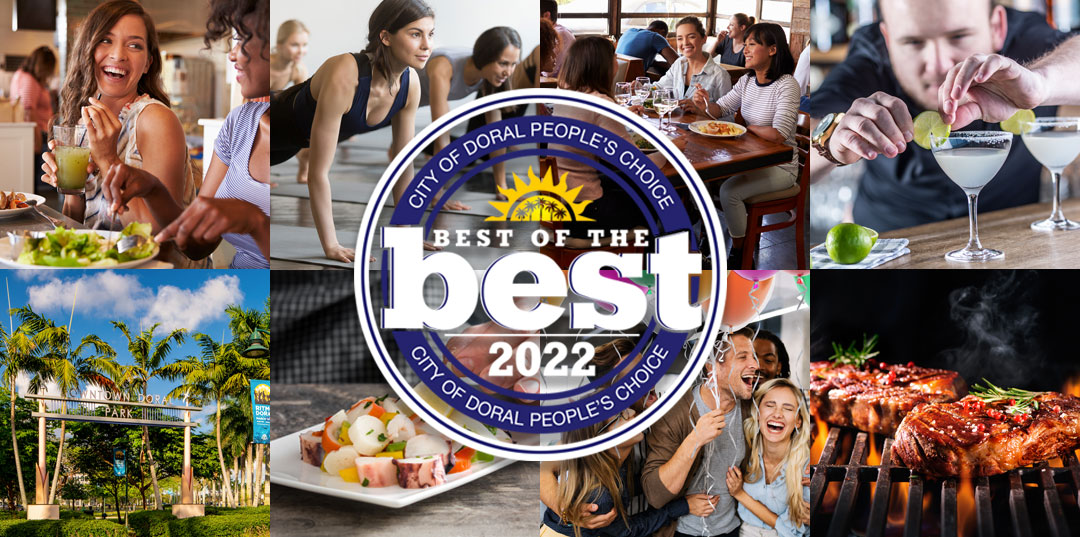 Best of the Best 2022 Poll is Open – VOTE NOW!
These businesses help make Doral the premier place to live, work, learn and play!
The City of Doral wants you to pick the area's best food, shopping, entertainment, services, and places each month. Visit this website at the beginning of each month to learn what the new category is and to cast your vote for your favorite.
Your votes help support local businesses in Doral and they help local consumers as well as visitors to our City enjoy the best! Thank you for your vote!
VOTE NOW!
*Please note all votes are reviewed for legitimacy, including location.
Are you a business that would like to promote your location on your platforms for this month's poll?
---
CONGRATULATIONS TO THE PAST WINNERS
NOVEMBER: Best Outdoor Dining - DORAL YARD
OCTOBER: Best Grocery Store - PUBLIX DOWNTOWN DORAL
SEPTEMBER: Best Breakfast - BACHOUR DOWNTOWN DORAL!
AUGUST: Best Place to Celebrate a Birthday - KINGS DINING & ENTERTAINMENT!
JULY: Best Doral Park - DORAL GLADES PARK
JUNE: Best Ceviche - DIVINO CEVICHE in Doral
MAY: Best Margarita - CANCUN GRILL in Doral
APRIL: Best New Restaurant - SHOMA BAZAAR at Sanctuary Doral
MARCH: Best Workout Group - RILION GRACIE Jiu Jitsu in Doral
FEBRUARY: Best Healthy Eatery - MICHIS in Doral