Hurricane Season
My Safe Florida Home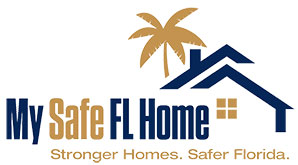 This is a State program provided by the Florida Department of Financial Services to owners of single family houses and townhomes.
Owners of any site-built, single-family residential house or townhouse in Florida may apply for a free home hurricane inspection at NO COST and NO OBLIGATION to the owner.
Latest Tracking Information
See our Flood Information
Hurricane and Flood Information
---
The City of Doral Police Department has the responsibility of establishing the Hurricane Plan and coordinating with all City Departments and the Miami-Dade County Office of Emergency Management in response to natural and man-made disasters. The plan is developed based on recommendations and guidelines of the Florida Statutes.

It is important to be prepared in case of any emergency. Always remember to have a plan: SAFETY FIRST.
---
It only takes one storm to change your life and community. Tropical cyclones are among nature's most powerful and destructive phenomena. If you live in an area prone to tropical cyclones, you need to be prepared. Even areas well away from the coastline can be threatened by dangerous flooding, destructive winds and tornadoes from these storms. The National Hurricane Center and the Central Pacific Hurricane Center issue watches, warnings, forecasts, and analyses of hazardous tropical weather.
Are you Ready?
Doral Emergency Operations Center
We want our residents to take a moment and think about the "what ifs?" Doral are you ready for a hurricane, a mandatory evacuation or the out break of the flu? We need you to think about these possibilities. As your police department, we have been on the front line of providing you with the best information possible, so that you can prepare a plan for your family and stay informed about what we are doing to help you.
Doral Are You Ready?
Preparing for potential emergencies starts at the individual level. And, while your State, County and City will be responding to basic community needs in the aftermath of an emergency, available resources and the time when those resources will become available will vary depending on the severity of the emergency. The first week after an emergency is the most critical period. Basic infrastructure, communications and transportation systems may be challenged, inoperable or inaccessible and the steady flow of supplies such as gas, ice, water, medicine and food may not be readily available.
IMPORTANT INFO
Hurricane Preparedness Guide
Storm Surge Planning Zones
(An area of Doral is on the Storm Surge map on the Southeast).

LINK STORM SURGE INFO
---
Emergency Evacuations
Residents will be able to enter their address to determine if they are under an evacuation order.
(Please note the list of Hurricane Evacuation Centers will be available once an evacuation order has been issued).

LINK TO EVACUATION INFO
---
Storm Aides For Everyone (SAFE)
Once an evacuation order is issued, residents can find open facilities, including evacuation centers, Emergency Evacuation Bus Pick-Up sites, operational hospitals, Disaster Assistance Centers and Points of Distribution.

LINK TO STORM AIDES INFO
---
Emergency Evacuation Assistance Program (EEAP)

Residents who are eligible for the program can register online or download an application (available in English, Spanish and Haitian Creole) and mail it.

LINK TO EVACUATION ASSISTANCE PROGRAM INFO
---
Ready Miami-Dade (Ready MDC) Mobile Application

Mobile application that provides real time information before, during and after a storm.
available via Google Play and iTunes.
---

HURRICANE TIPS
Pre-Storm Activities for Residents and Businesses
Have a personal plan and review your emergency kit. Make sure to have plenty of food, non-perishable goods, water (1 gallon per person per day) and medicine for a minimum of seven days. Don't forget to purchase enough food and medications for your pets if needed. Visit the Public Safety page from the City website to see a complete list.
Be sure to bring all front yard and backyard decorations, items, and accessories indoors to avoid the possibility of flying projectiles. Never use a barbecue grill indoors or on a balcony it will create life-threatening conditions inside your home as well as a fire hazard.
Survey your property for any property maintenance-related issues prior to a storm, such as damaged fences, loose roof shingles or tiles, or other similar items so that they may be repaired before a potential storm arrives.
Ensure that hurricane shutters are in good working order and are being maintained regularly. If your home has hurricane panels, make sure all required hardware and materials are easily available and accessible.
Flooding can be a major concern during a storm. The City maintains all storm water drains within the public right-of-way, but make sure that if you live in a private community, your association management maintains the storm water drainage system within your community. Ensure that all private storm drains are serviced and cleaned out to assist in alleviating standing water in roads and parking lots. Remember "Only Rain Down the Drain."
Trim your trees weeks, even a couple of months, before the start of hurricane season to avoid having dead branches and pruned landscaping from becoming dangerous objects during a windstorm. Proper disposal of these items is critical to prevent property damage during a storm. Note: if you have branches near or touching live electrical cables do not attempt to cut or remove them. You should notify FPL and report any hazardous conditions such as trees making contact with electrical power lines.
For business owners in the City, all outdoor seating and tables, along with loose signs, should be brought indoors. All heavier outside storage materials should be properly secured, as well. City Inspectors will be scoping the City for construction sites and handling out flyers informing to secure loose construction materials. Have an emergency plan for your employees.
Contact your Insurance Agent to ensure your property is properly insured and store all valuable documents in an impermeable container.
Contact your Homeowner's Association (HOA) to receive information specify to your community.
The City's Building Department will be available to assist customers with any hurricane permitting and inspection inquiries. For flood information visit our website: www.cityofdoral.com ,under the Building tab.
Post-Storm Activities for Residents and Businesses
Various major street intersections in Doral are equipped with portable generator interface devices that allow the hook-up of portable generators for continued operation of traffic signals in case of power outages caused by a hurricane event. Treat all intersections as a four (4) way stop when the traffic light is not functioning, or the Stop sign is down.
In the event that your property is damaged during a storm, be aware of unlicensed contractors. Make sure to verify that all potential contractors working on your home are properly licensed, insured, and qualified by the State of Florida, and that all appropriate building permits are obtained.
The City of Doral has contractors on standby ready to assist with clean-up and debris removal on City public roads. This will allow first responders to have unimpeded access in case of emergencies. In a continued effort to protect residents and business owners, the Code Compliance Department will be aggressively investigating and enforcing all reports of illegal contracting work performed in the City. Please know that if your community is managed by a Homeowners' Association (HOA), that HOA is responsible for their respective community debris pick-up and disposal at a designated Miami-Dade County Solid Waste facility.
Florida Power and Light (FPL) outage and restoration information is available by calling 1-800-4-OUTAGE (1-800-468-8243) or through their mobile website at www.FPL.com.
In the event of a power outage, generator exhaust must be kept a minimum of 10 feet away from wall openings such as windows and doors.
Cooperate with authorities if curfews are issued within the City and avoid leaving the house to drive around unless needed.
STAY INFORMED! The City of Doral has the goal of keeping the residents and stakeholders informed. City staff uses various platforms to keep the public notified of hurricane emergency alerts.

City residents and business owners may sign up to receive Automated Weather Alerts through Doral Alerts. This is free of charge and the application can also be downloaded on your smart phone. These alerts are pushed out to registered participants automatically, when the National Weather Service declares inclement weather areas near registered address. Residents and business owners may signup via our website to receive these notifications. Doral Alerts

The City of Doral uses these social media outlets to keep residents and business owners informed of any emergencies. Follow our Twitter accounts (@cityofdoral and @DoralPolice), Instagram (@cityofdoral and @DoralPD), and our City Facebook page (@cityofdoral). There you can also find the link to subscribe to Doral Alerts.
If you have yet to develop a plan utilize the Emergency Preparedness Guide For more information on how to prepare for hurricane season, storm surge zones, evacuation centers, cleaning before the storm and other hurricane tips please refer to Miami Dade County Office of Emergency Management by clicking here:
http://www.miamidade.gov/fire/emergency-management.asp

For your future reference, please find the links to several articles for further information.
Additional Resources:
Flood preparation:
Hurricane preparation:
Weather Rumor Control Hotlines:
Miami-Dade Answer Center/Rumor Control Hotline:

311; TTY: (305) 468-5402

Haitian Support, Inc: 800-443-2951 (provides general human services assistance, community information and disaster information in Creole)
State of Florida Emergency Information Line 800-342-3557; TTY: 800-226 4329
Additional Contacts:
STATE OF FLORIDA
Florida Department of Insurance 800-342-2782*
FL Division of Emergency Management 850-413-9900
FL Fish & Wildlife Commission 561-625-5122
Florida Relay Service 800-955-8770*
South FL Water Management District 800-544-2323*
US GOVERNMENT FEMA 800-621-3362*
National Flood Insurance Program 800-638-6620*
MIAMI-DADE COUNTY
Answer Center (Rumor Control) 305-468-5900
Cooperative Extension 305-248-3311
Humane Society of Miami 305-696-0800
Hurricane Hotline 311
Miami-Dade Animal Services 305-884-1101
Miami-Dade Emergency Management 305-468-5400
Special Transportation Services (STS) 305-263-5406
DORAL GOVERNMENT
Doral City Hall 305-593-6725
Doral Police Department 305-593-6699
Doral City Manager 305-593-6690
OTHER
ATT 888-757-6500*
ATT (on cell phones) 611
Comcast 800-266-2278* 1-800-COMCAST
FPL 1-800-OUTAGE 800-468-8243*
FPL (General Information) 305-442-8770
National Hurricane Center www.nhc.noaa.gov
SPeoples Gas/TECO 877-832-6747*
Salvation Army 305-637-6700
The Weather Channel www.weather.com
If you should have any questions, please feel free to contact us at publicworks@cityofdoral.com