Annual Report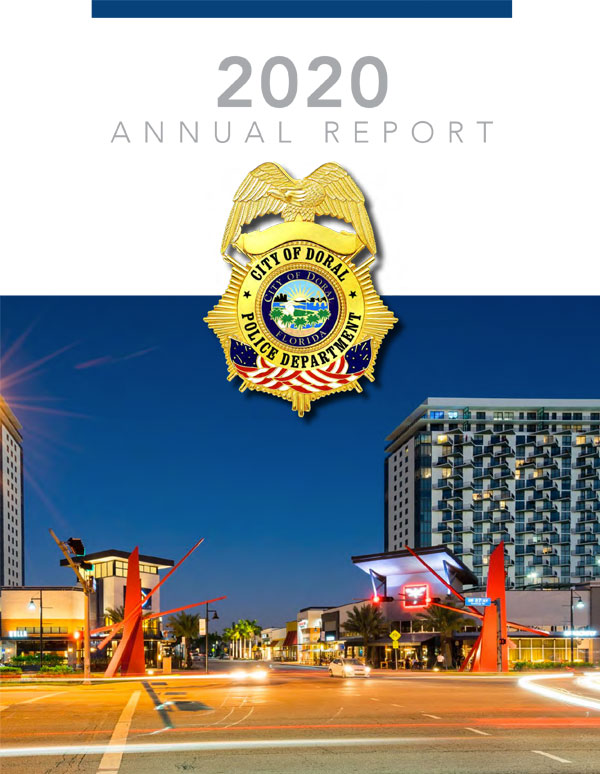 Annual Report 2020
Without doubt, 2020 was a year that will go on the books as one where history was made on several fronts. A little-known virus that migrated from Asia, turned into a global pandemic that impacted our community and our department without distinguishing between men and women, young and old, and rich and poor. The department's mission became one of mitigation and educating our residents and visitors about Local and County Emergency Orders, addressing previously unheard-of issues such as social distancing, use of facial coverings, and school closures. We continued to serve our community with some of our administrative and support staff working remotely. Our officers shifted the focus of our daily mission and adapted accordingly to deliver much needed food to residents in our community. With the support of Mayor Juan Carlos Bermudez and the members of the City Council, about 2,000 families received groceries worth $200,000. Throughout the year, we partnered with local health providers and assisted in the administering the much-sought COVID-19 tests.
The summer brought with it nationwide calls for police reform including the use of Body-Worn Cameras and the elimination of the neck restraints or chokeholds. I am happy to report that these were measures that had been previously enacted and in practice in the Doral Police Department long before the community demanded them. We recognize that the support of the community is critical to successfully fulfilling our mission. To that end, I remain committed to the highest standards of policing to include transparency, accountability, and professional responsibility.
As an accredited law enforcement agency with the Commission for Florida Law Enforcement Accreditation (CFA), compliance with these standards for excellence in policing ensures that our department remains the professional law enforcement agency our community expects and deserves. It brings me great pride to share with you the following pages of the 2020 Doral Police Department Annual Report, which highlights the challenges and accomplishments of an unforgettable year, one that our officers and administrative personnel dealt with in their relentless pursuit to ensure that Doral remains a great place to live, work, and play.
Hernan M. Organvidez