Green Initiatives
2018 Greenhouse Gas Inventory
Greenhouse gases (GHG):
Quantifiable/measurable

Carbon dioxide (CO2)
Methane (CH4)
Nitrous Oxide (N2O)

Naturally occurring
Each gas has a different global warming potential
Human activities have changed their concentrations
CO2 emissions are removed through carbon sinks
2018 Greenhouse Gas Inventory.
---
Tree City USA
The City of Doral Mayor and City Council's leadership recognizes the importance of trees in our community. This year the City once again was recognized by the Arbor Day Foundation as a "Tree City USA" for the 13th consecutive year in a row. These programs help establish a framework enhancing the management of planting and tree care; educating about the importance of sustainable tree management and engaging organizations in advancing urban forestry. It also showcases the pride residents feel about where they live, work, learn and play. Follow the link to see the many benefits that trees provide:
It is the City's commitment to continue spreading awareness about the importance of trees to its citizens and through other initiatives that align with the Tree City USA program.
---
City's Green Statement
The City of Doral has been a leader statewide and nationally for many years beginning in 2003 with City incorporation when the formative city leaders at that time started work on a new Comprehensive Plan that would take the existing urban sprawl type development pattern developed under Miami-Dade County for 50+ years and transform the Doral area into a real city with a downtown focus, mixed use opportunities, business orientation, local transit and traditional neighborhoods. The strong green leadership of Mayor Bermudez and the City Council was evident when the Mayor signed the U.S. Mayor's Climate Protection Agreement in 2005. The City continued its green push in 2008 with the development and approval of its "Green Master Plan" which was awarded the 2009 Excellence in Planning Award by the Florida Chapter of the American Planning Association and the 2009 Outstanding Planning Innovation Award of the Florida Planning and Zoning Association.
---
Florida Green Building Coalition - FGBC
In keeping with the organization's mission, FGBC has developed green certification programs that apply to construction projects and local government operations. Seeking FGBC certification demonstrates a commitment to providing your customers with products or services that are green and sustainable.
Local Governments across Florida have found this program to not only protect the environment but also improve operational efficiencies and reduce the cost of government for taxpayers.
CITY OF DORAL IS FGBC CERTIFIED!
---
Green Master Plan
The goal of the Green Plan is to conserve natural resources, enhance quality of life, bolster economic vitality, and leave a sustainable legacy to future generations of City residents.
Preparing for a future with limited resources is one of the most important planning challenges that decision makers face. Confronted with this challenge, the City of Doral realized the necessity to plan for a sustainable future. The City has signed the U.S. Mayors' Climate Protection Agreement and has developed this Green Master Plan to guide operations and growth in an environmentally responsible manner. This far reaching approach builds on the City's previous environmental efforts with the goal to conserve natural resources, enhance quality of life, bolster economic vitality, and leave a sustainable legacy to future generations of City residents.
---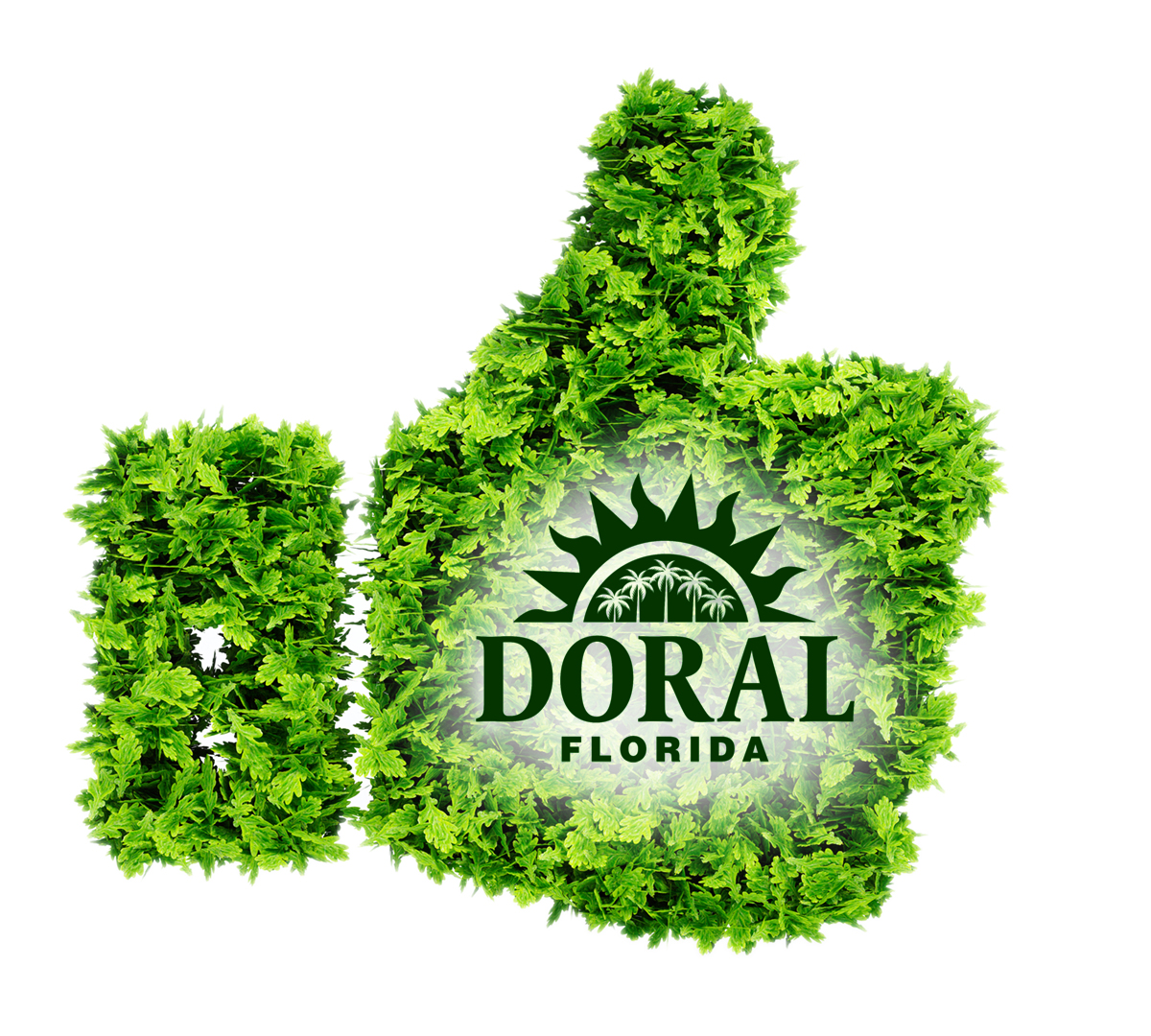 Green Element
The Green Element of the City of Doral's was amended into the Comprehensive Plan (CP) in 2011. The "Element" is composed of two(2) parts: Goals, Objectives & Policies (GOP's), and Data, Inventory, and Analysis (DIA). In this Element, the words "green" and "sustainable" are synonymous and when used herein denote "development that meets the needs of the present without compromising the ability of future generations to meet their own needs." This definition was developed as part of the Brundtland Commission Report in 1987 and is an accepted industry standard. The placement of this element as the initial element in the City's Comprehensive Plan has real significance. It is intended to send the very real signal that the Green Element is the "glue" that gives sustainable purpose and guidance to the other elements, including land use. It's the green foundation for the remainder of the Plan and Doral's sustainable future. In addition, it meets and exceeds the requirements of State House Bill 697 which requires cities and counties to include consideration of greenhouse gas emissions and energy efficiency in their local comprehensive plans (Section 163.3177, F.S.).
---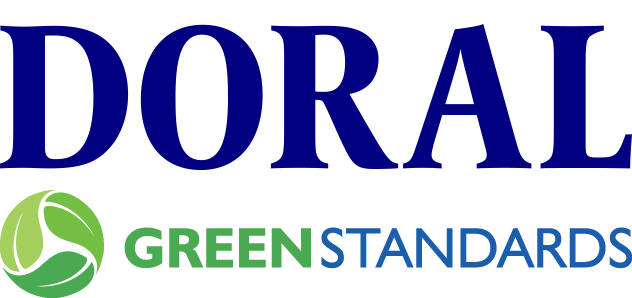 Standards
SCROLL TO SEE ENTIRE LIST OF STANDARDS
Mission statement to include environmental commitment.
Mission statement into the local government's comprehensive plan.
Monitor and track local government energy use.
Develop a local government energy reduction plan.
Monitor and track local government water use.
Monitor and track local government solid waste generation/recycling rates.
Participate in Cities for Climate Protection Campaign.
Alternative fuel vehicle purchase.
Become a member of FGBC.
Become a member of USGBC.
Construct LEED or FGBC certified buildings or renovate for LEED EB or CI.
Employ green cleaning and maintenance procedures.
Maintain an office, person or group to coordinate current and future green activities.
Adopt a green standard as official minimum criteria for new and renovated govt. buildings.
Adopt green cleaning/maintenance practices available from DEP.
Enact green landscaping ordinances for local government buildings.
Certified Florida friendly landscapes within the city/county.
Offer incentives to create organic farms, or sustainable/water efficient agriculture.
Offer an incentive(s) for FGBC or LEED certified commercial and institutional buildings.
Enact and enforce a tree preservation or land-clearing ordinance.
Regulate impervious parking surfaces.
Use renewable energy as backup/emergency power.
Maintain green fleets.
Become an energy star ally.
Enable customers to make online payments
Take part in any speakers bureau or sponsor workshops.
Emissions info posted on website.
Construct/renovate green buildings.
Alternate commuting incentives for local government employees.
Provide reusable mug/water bottle to all employees.
New employee orientation includes general city/county commitment to environment.
Operate local government computer and equipment reuse center.
Recycling of end-of-life electronic equipment.
Enact local government policy so all computer/ancillary equipment is off when not in use.
Enact policy so all computer equipment purchased has conservation features.
Operate website dedicated to green city/county program.
Develop environmental education content for city/county websites, tv programs, ect.
Develop & implement plans for species removal throughout public lands.
Air quality index on website.
Results from water quality testing on website.
Install appropriate bicycle security at all public amenities.
Apply Florida friendly landscaping principles at public amenities.
Implement recycling stations for plastic, glass and aluminum containers at all areas.
Implement energy efficient lighting and controls for outdoor courts, parks and play fields.
Each staff member trained in an area related to their function on a bi-annual basis.
Assist other departments with the tracking of indicators related to their function.
Maintain a bicycle/pedestrian coordinator on staff.
Encourage mixed-use zoning/development.
Utilize alternative fuels for fleet.
Make amends for vehicles to accommodate bicycles.
Engage in carpool/vanpool assistance.
Analyze transportation routes and improve connectivity to bicycle & pedestrian network.
Operate a green fleet.
Provide public transportation route searching via the internet.
Provide information about alternative commuting on website.
Maintain a green fleet program for department or entire local government.
Utilize integrated pest management.
Operate local government alternative fueling station.
Utilize solar or other energy efficient streetlights and/or crosswalk lights.
Street sweeping.
Routine maintenance plan for maintenance of storm sewers.
Employ green landscaping procedures for local government facilities.
Become a Tree City USA.
Community stormwater education campaign.
City/county wide chemical/hazardous waste collection.
Develop a disaster waste management plan.
Curbside recycling for homes and businesses.
Offer mulched yard waste to community.
Require recycling at all local government buildings.
Create a reclaimed water infrastructure.
Low flow fixture rebates.
---
Air & Water Quality Reports
Air
Air Quality Index for Doral:
Air-Now Florida Website
Water and Sewer
Our Water and Sewer services is provided by the Miami-Dade County Water & Sewer. Please follow link below to all their services available online:
Miami-Dade County Website
Miami-Dade County Water & Sewer Department water quality statement:
Miami-Dade County Website
---