Business License Renewal
Hello,
Thank you for choosing the City of Doral as your community to do business. We appreciate your commitment to growing your business in our dynamic city.
As of March 22nd, 2021, the City of Doral implemented a new planning, permitting, and licensing software system ("EnerGov") that allows business owners to create an account, pay and print license(s) online. Please use the link provided below and follow the steps.
---
BELOW PLEASE FIND A STEP BY STEP PROCESS ON HOW TO RENEW YOUR BUSINESS TAX RECEIPT:
INSTRUCTIONS ON HOW TO CREATE ACCOUNT, PAY ONLINE AND PRINT LICENSE
Use the link above to create an account.
Please make sure you are using google chrome and that your username is not your email.
Reminder: This will be the account the customer will use from now on to renew online and make any updates.
The email you use(d) to create your account must match the email the City of Doral has on file. To update this information please contact us at btrlicensing@cityofdoral.com
Please follow the steps below to pay once your account has been created.
Please follow the steps below on how to create your account and how to pay once your account has been created.
On the right-hand corner of the page, you will find a drop-down menu.

Step 1:
Please provide your email address and follow instructions sent by the system to your email.

Step 2:
Create a username and password. From here, you will move to a new page for step 3 and step 4, to add your personal and address information. Once all fields have been filled out your portal will be created. You can now proceed with paying for your Local Business Tax Receipt.
Once logged in, look for the tab "My Work". Then click on the license number (first tab to the left)

A new page will open, click on the "Add to Cart" button.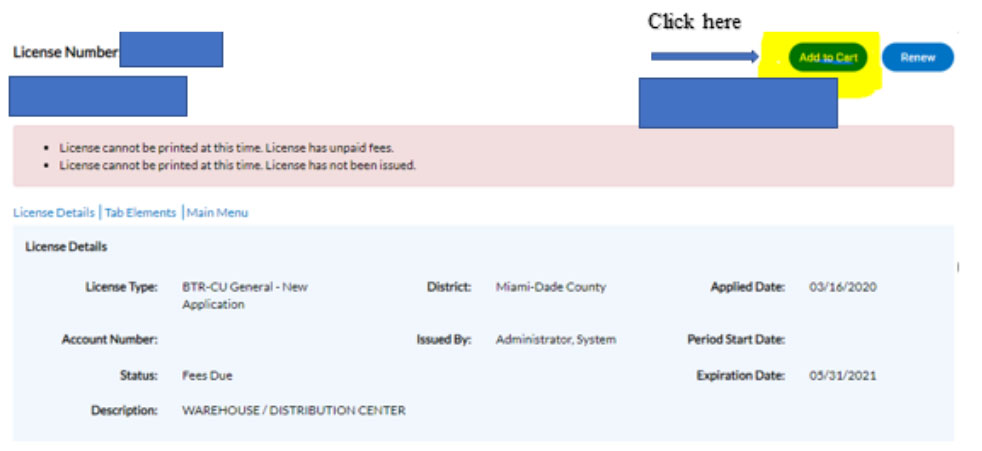 After you add to cart, a new page will open (see below). Please click on the "Check Out" button

On the checkout page, please follow instructions to pay. Send us proof of payment. Once we inform you that your license has been issued, you can print your Business Tax Receipt by clicking on the printer icon (

) located on the right-hand corner of the page.
If you have any questions or need assistance,
please contact us at 305-593-6631 or at btrlicensing@cityofdoral.com
Respectfully,
City of Doral Licensing Division
---
A Local business tax Receipt vary depending on the nature of business. A receipt is required for each place of business and for each separate classification at the same location.
A business located within the City of Doral is required to obtain both a city receipt and a County receipt.
Local Business Tax Receipts are issue for one year, beginning October 1 and expiring on September 30 of each year.

The Local Business Tax Receipt and Certificate of Use must be displayed conspicuously at your place of business and in such a manner as to be open to the view of the public and subject to inspection by all duly authorized City of Doral officers.

The Doral Licensing Division must be notified in writing regarding any changes to the following: business name or ownership, location, number of employees, equipment, machines or any other contingency. Doral Licensing Division

If the business ceases operation, the owner must notify the Doral Licensing Division in writing. Please email us at BTRlicensing@cityofdoral.com.