Digital Data Standards
The Smart City concept is a tech savvy way to address issues of unplanned urbanization. A comprehensive definition would be "a data-driven urban environment aimed at sustainability, transparency and efficiency, driven by an ICT enabled model rendering a visual framework, and a seamless use of disruptive technologies in various application scenarios, served by an intelligent community framework".
The Doral Digital Smart City is aware that data is a prime asset in the knowledge society and it therefore believes that it is socially perceived as a common asset. It promotes this view in order to achieve the democratic, open, transparent and regulated management of this resource.
Projects
---
GIS is central to Smart Cities
Smart City GIS is an integrated cross-sectoral platform to collect, manage, compile, analyze and visualize spatio-temporal information for sustainable urban planning, development and management.
GIS is deployed at every stage of planning and development of a Smart City. The underlying framework is served by ICT (Information and Communications Technologies), while the focus is on the 'spatial' or GIS. The common platform operates through all stages of the life cycle – from modeling, planning, building to managing – across the full spectrum of functionalities.
The Doral Digital Smart City roadmap is an innovative partnership between companies, governments, knowledge institutions and the residents of Doral. A strong geospatial framework drives the focus on sustainability and open geo data policies.
Doral's partnership with ESRI has ushered in a new era in interactive maps that provide our residents real-time interactive GIS data across a wide range of city services.
---
Business Intelligence Dashboards
The City of Doral Metrics Dashboard consolidates data from multiple IT system into a single interface providing city decision makers with insight into project progress and citizen needs. Performance measurement in the public sector is an ongoing, systematic approach to improving results through evidence-based decision-making, continuous organizational learning, and a focus on accountability for performance. At the City of Doral, performance measurement is integrated into all aspects of our City's management and policy-making processes, transforming our daily business processes by achieving improved results for the public.
---
Transparency
Our Transparency Portal provides openness, accountability, and shares information with residents, business and visitors. In an effort to provide transparency in government, The City of Doral is committed to improve and share this accountability with the citizens of Doral and to provide full disclosure that provides insight into service delivery and quality of life. The Transparency Portal e demonstrates the City's pledge to hold financial disclosure, accessibility, public safety, and sustainability service delivery to a high standard.
---
Celebrating the First American City in the WCCD Network Certified under ISO 37120, ISO 37122 and ISO 37123
World Council on City Data 2016, 2017, 2018, 2019 and 2021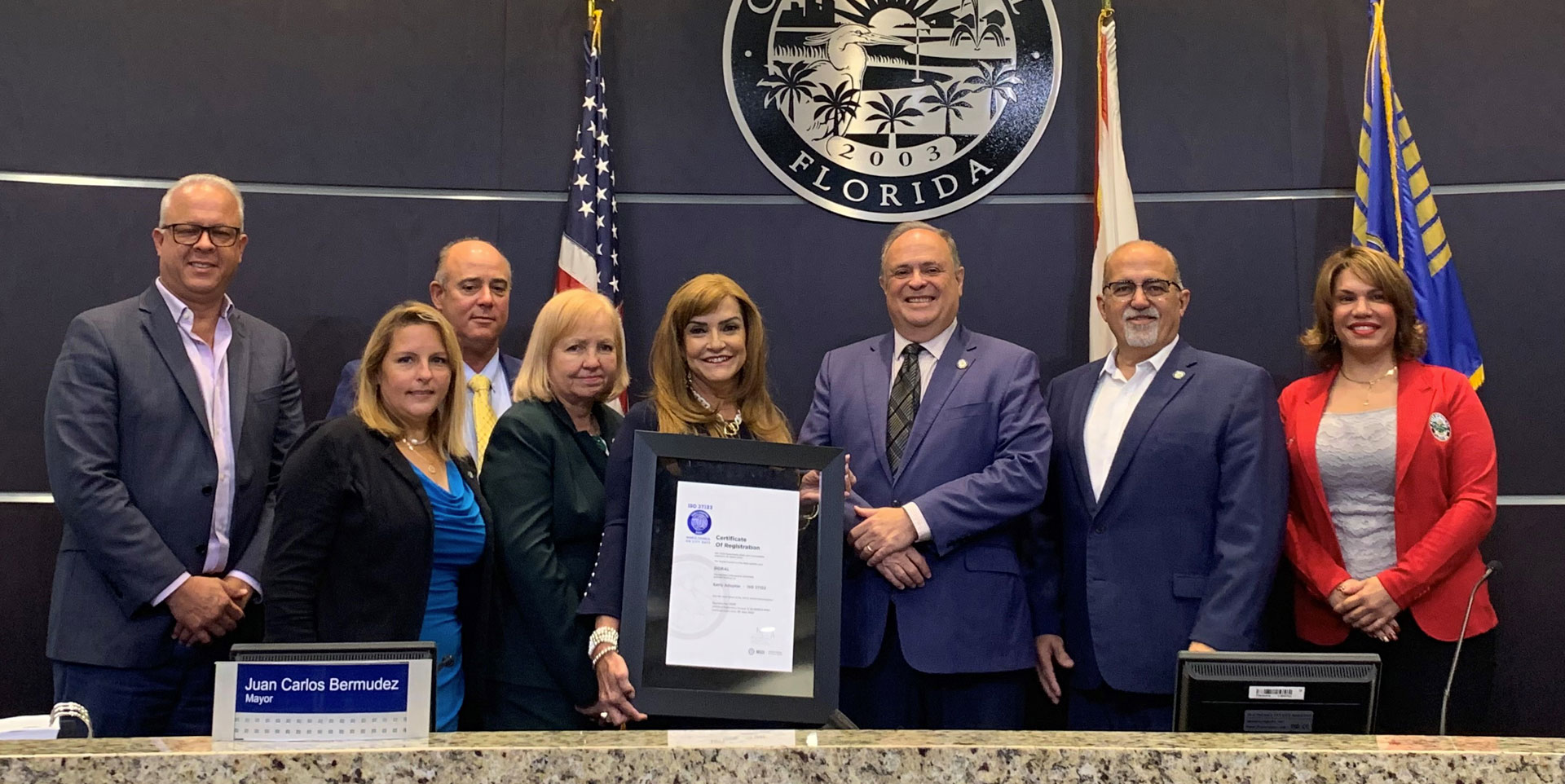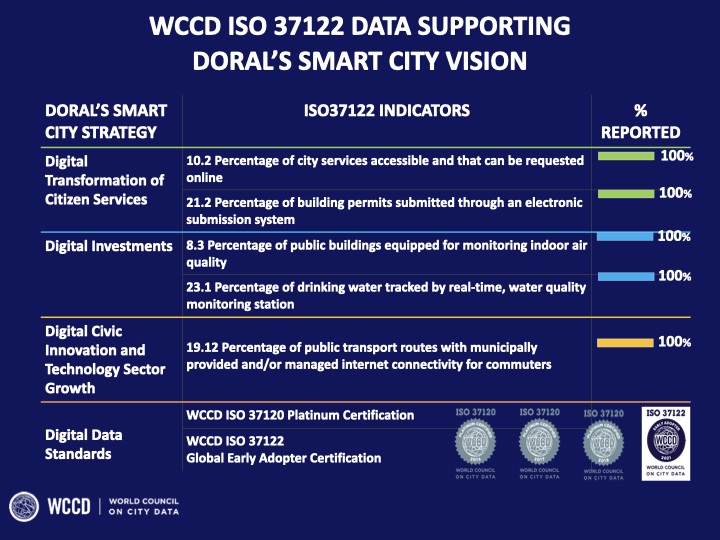 The World Council on City Data has recognized the City of Doral with the ISO 37210 Platinum certification. This certification is awarded to cities who reach the highest standard in collecting and sharing critical environmental, social, recreational, governmental and financial data, using it for effective decision-making.
The City of Doral is the fourth city to receive ISO 37120 certification in the U.S., joining a global network of over 50 cities worldwide, including Dubai, Barcelona, and Boston.
The World Council on City Data (WCCD) is the global leader in standardized city data- creating smart, sustainable, resilient, and prosperous cities. It hosts a network of innovative cities committed to improving services and quality of life with open city data and provides a consistent and comprehensive platform for standardized urban metrics.
Doral's membership in the WCCD gives the city the opportunity to compare best practices with other cities and actively participate in a worldwide organization that uses standardized metrics to find innovative solutions to shared challenges.
Doral has made significant investments as part of its commitment to resiliency, workability, and sustainable environment working on improvement of our service and the well-being of the city.
With this certification, we strengthen our digital government transformation by providing people and business, first services and solutions that span city administration and citizen services, enabling increased insight, service efficiency and improved citizen outcomes.
The gathering of the data for reporting was instrumental to the success of the certification process, which was spearheaded by the city's Information Technology department in collaboration with all city departments, as well as Miami- Dade County Fire, Environmental, Solid Waste, Water, and Sanitation.
---
World Council on City Data