Adopted Budget FY 2019-2020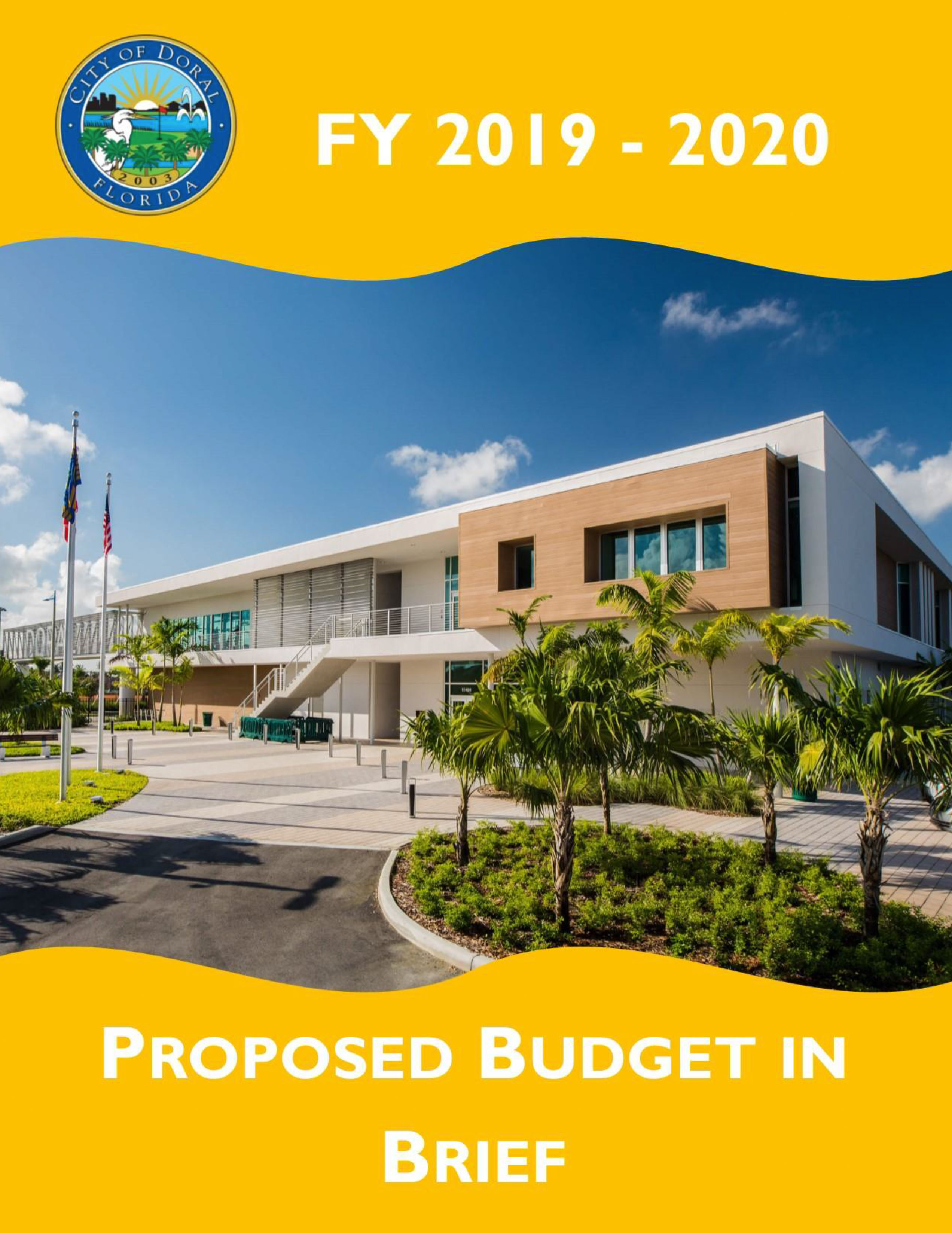 Dear Honorable Mayor and Members of the City Council:
In accordance with the City of Doral Charter, the Code of Ordinances, and the laws of the State of Florida, it is my pleasure to present the City of Doral's Proposed Operating and Capital Budget for Fiscal Year (FY) 2020 beginning October 1, 2019 and ending September 30, 2020. The primary objective and driving force behind the FY 2020 budget is the City's adopted Strategic Plan with the following seven strategic focus areas: Safety; Opportunity; Mobility; Play; Information and Control; Efficient and Effective Government; and Financial Planning. It also reflects the administration's needs and expectations of exceptional services.
STATE OF THE ECONOMY
The City of Doral is in the midst of a period of rapid growth. The population grew forty-nine percent from 2010 to 2018, adding 22,535 citizens to the city, according to the Florida Bureau of Economic and Business Research. In 2018, Doral was the home of approximately 68,244 citizens and it is projected that by 2020 the population will reach an estimated 78,000. The city's commercial, educational, recreational and residential amenities have continued to evolve, providing more reasons every day to live, work, learn, play, and invest in Doral.
Doral is also a business-friendly city that facilitates investment and growth through a commitment to customer service, efficiency, transparency, technology and communication, and its robust economy is a testament to that commitment. The City of Doral's business community continues to grow in the most important industry sectors in Miami-Dade County. Doral remains a strategic gateway city for international trade and continues to attract multinational businesses to the area. Since incorporation, Doral's employment growth has played a significant role in driving total employment in the region, representing over 17% of all new net jobs created in Miami-Dade County as reported by the 2017 Florida International University Metropolitan Center Economic Analysis. The City has over 10,000 licensed businesses, employing more than 102,000 workers producing total sales revenues estimated at nearly $70 Billion in 2016. The total volume of sales revenue from these companies, concentrated in such a small geographic area, makes Doral one of South Florida's and the State's most productive local economies.
The young city's many accomplishments have been recognized on the national level. This year, the city was ranked by Money magazine as one of the top twenty-five cities to live in the United States. In June, the City of Doral was honored to be recognized as a 2019 All-America City Silver Recipient, a remarkable accomplishment that highlighted the young city's strong sense of community pride.
On the global stage, Doral continues to attract attention as a Smart City. In 2017, Doral obtained the World Council on City Data's Platinum Level Certifications for ISO 37120, joining major smart cities of the world like Amsterdam, Barcelona, Dubai and London. Doral is one of the few cities in the United States to achieve this certification, an accomplishment that was showcased at national and international conferences like NALEO and eMerge Americas. Through this internationally recognized certification, Doral joins a network of cities adopting a culture of data to drive innovation. Additionally, WCCD's data provides verifiable measurement of a city's performance relative to other great cities of the world, and the opportunities for Doral to showcase its strengths. The favorable comparisons make a strong case for investment in the dynamic and modern City of Doral.
Albert P. Childress
City Manager
---
Download Adopted Budget