Adopted Budget FY 2022-2023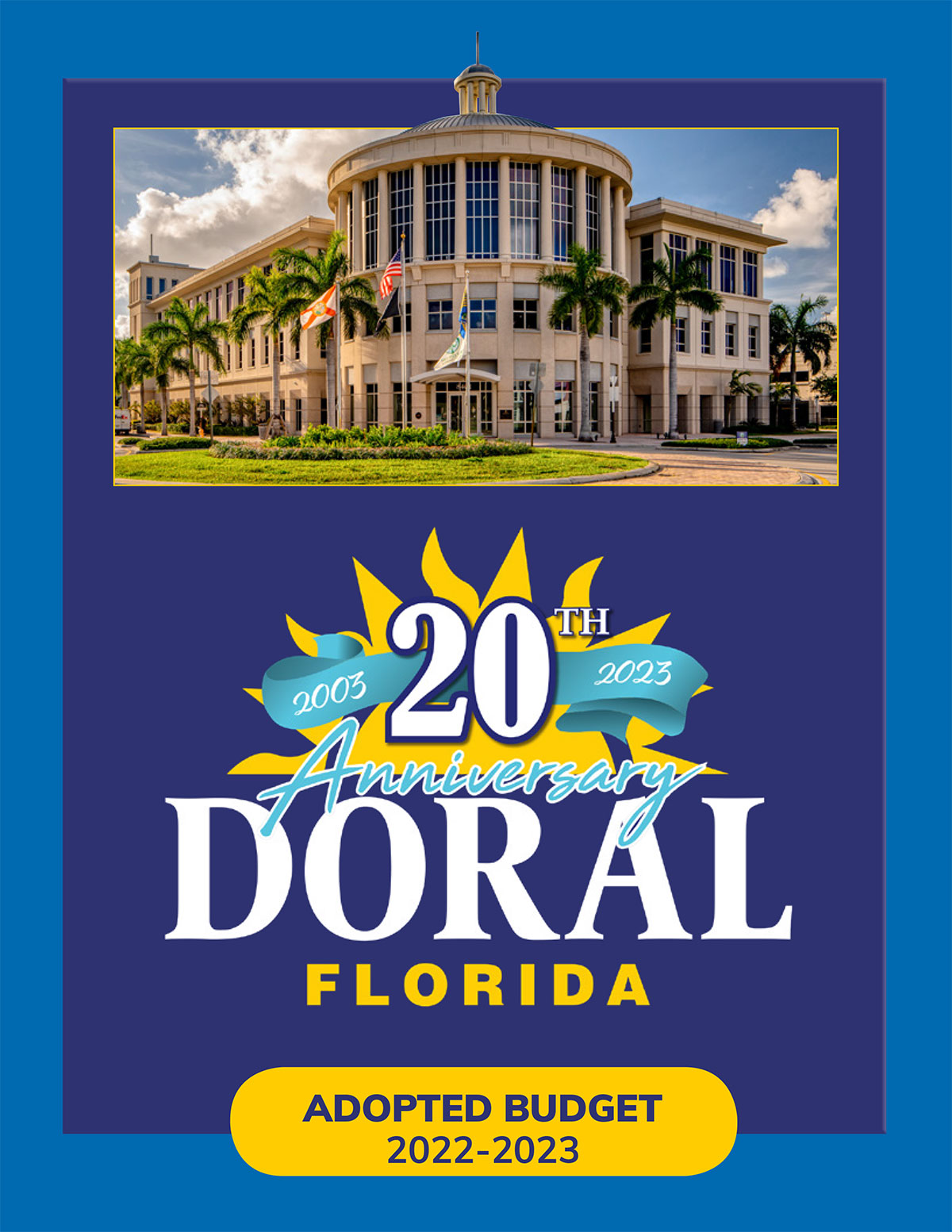 Dear Honorable Mayor Juan Carlos Bermudez and Members of the City Council:

In accordance with the City of Doral Charter, the Code of Ordinances, and the laws of the State of Florida, I am pleased to present the City of Doral's Adopted Operating and Capital Budget for Fiscal Year (FY) 2023 beginning October 1, 2022 and ending September 30, 2023.

The adopted FY 2023 budget aligns with the City's adopted Strategic Plan and prioritizes the following strategic focus areas: Enhancing community attractiveness, Updating codes and ordinances, Continue infrastructure development, Maintain technological leadership, Continue service improvements, and Maintain a safe community. It also reflects the administration's goals and expectations of exceptional services.
STATE OF THE ECONOMY
The City of Doral will commemorate a major milestone in the upcoming fiscal year. On January 28, 2023, the young municipality will celebrate the 20th anniversary of its incorporation. In the ensuing two decades, Doral has grown into one of the premier economic success stories in the region, and that well-established trend toward upward mobility appears likely to continue unabated in the foreseeable future. In fact, with major new private and public developments in full swing and long-delayed annexation plans now finally underway, the City of Doral's dynamic economy seems primed for significant advancement.

Certainly, estimated year-over-year changes in population and property values provide ample evidence of vigorous growth. Doral's population expanded by 6.36% to an estimated 80,703 inhabitants in 2021, according to the Florida Bureau of Economic and Business Research. That annual population increase mirrors the Miami- Dade County Property Appraiser's estimated 7.8% increase in Doral's Taxable Value Before New Construction. However, with the addition of $349 million in new construction, the county's 2022 Preliminary Taxable Value estimate increases by 10.1% to nearly $16.6 billion.

With multiple projects at different stages in the development pipeline, Doral's rapid growth shows no signs of plateauing anytime soon. New residents and businesses are expected to continue filling in a slew of residential, mixed-used, commercial and industrial developments currently underway in the city. Ongoing projects like Downtown Doral South, Atrium and Midtown are reliable indicators of a steady rise in population in the next few years. On the business side of the equation, massive industrial developments along the city's eastern and western borders promise to add much-needed warehouse units to a sector that has experienced soaring demand throughout Miami-Dade. With additional industrial pockets of Miami-Dade soon folding into Doral through the annexation process, Doral will be able to accommodate more businesses eager to take advantage of all that the city has to offer.

Since the very beginning, Doral's proximity to Miami International Airport has helped fuel the city's robust economic expansion. So, it should come as no surprise that MIA's recent record-setting increases in both cargo capacity and visitor numbers were welcome boons for the city's business climate in the past year. Looking ahead, game-changing upgrades planned at Miami International Airport will nearly double cargo capacity in upcoming years, driving increased demand for Doral's warehouses. Also, it bears mentioning that MIA has seen record numbers of visitors in 2022, filling Doral's hotels, shops and restaurants with travelers from all over the world. With more attractions available than ever before, the Doral brand has never been stronger.

The Doral community will soon be able to enjoy the new Doral Cultural Arts Center, the first major amenity to be completed from the city's ongoing $150 million Parks Bond construction projects. These citizen-approved bond projects will continue to come to fruition in the years to come, directly and indirectly benefiting the community and providing quality of life for current and future generations. It's important to note that all these important public initiatives have been implemented while maintaining a responsible budget and robust reserves, an accomplishment which can be fully evidenced in this responsible, well-rounded budget.

Doral is not immune to the challenges that have continued to define the current economic era in the US and around the world. Inflation remains uncomfortably high, businesses still struggle to find and retain qualified workers, and supply chain issues still impact practically every sector in an otherwise roaring local economy. Doral's stakeholders can find comfort in the detailed economic information contained in this budget. On the eve of its 20th anniversary, Doral's residents, businesses and investors can feel confident that the city's economy is booming, and its long-term outlook is very strong.
Hernan Organvidez
City Manager
---
Download Adopted Budget